Andrew F. Kees was born in Washington Co., Pennsylvania in 1817 and died in Umatilla Co., Oregon in 1886. In 1860 he married Nancy Osborn (a survivor of Whitman Massacre) and they settled 2 miles south of Weston. From his farmland Mr. Kees deeded 1 and 9/16 acres for a cemetery site in 1875.
All official records of the Blue Mountain Cemetery were destroyed. Fortunately, Mrs. E.C. Miley and Mrs. O'Neal spent many days researching and re-establishing the county records as complete as possible. The list of burial sites is a completion of their efforts.
The following list of burial sites from the Blue Mountain Cemetery was compiled by Mrs. E.C. Miley and Mrs. O'Neal.
It appears that the first burial was that of David Thomas Lenox, a leader of the first wagon train over the Rockies in 1843. Marcus Whitman joined the train as he was returning to the Washington territory from a trip to Washington D. C.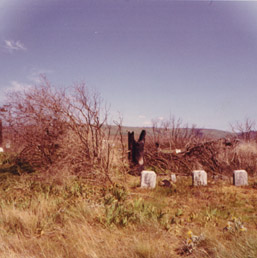 When the last cemetery clean up started back in 1968, the Blue Mountain Cemetery looked like the photos above. Many individuals as well as the scouts and other civic groups had worked to clean the cemetery up, but the job was tremendous.
The work was limited also as no one had a legal right to work on the cemetery in general. The original had all passed on with keeping active members on the board.
In 1968, Mrs. Miley, Hugh Gilliland, then-mayor of Weston, and Charlie Hearn, the maintenance chief for the City Weston, petitioned the Umatilla County Court, and were appointed trustees. Having received legal authority, the final cleanup started in earnest.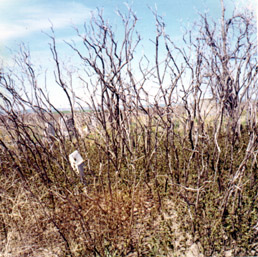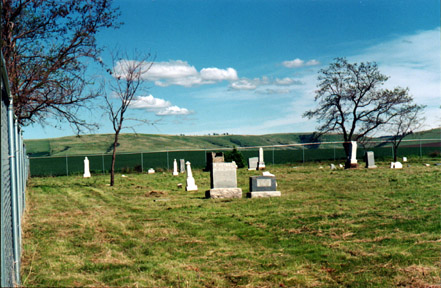 That was not the end of the vandalism, however. Much work was accomplished, including the repair of many of the stones.
More information:
East-Oregonian article an Vandalism at the cemetery. (PDF)